Edgley Concertinas — Hybrid Models
Our Hybrid Models are the "Session Box", "the Performers' Model" and the "Professional Model." "Hybrid" is a term generally used in the concertina world, for high quality concertinas made using Italian accordion-style reeds. All our "Hybrid Models" are made with the very best hand-made reeds available. These are specially made and designed for our instruments to be very sensitive and responsive, and to produce the most traditional concertina sound. All three "hybrid models have the very same quality of materials and workmanship.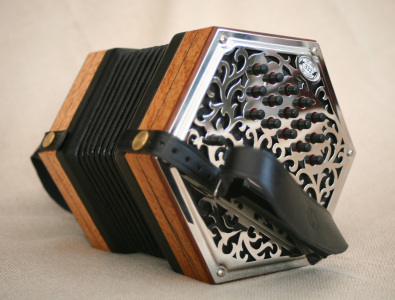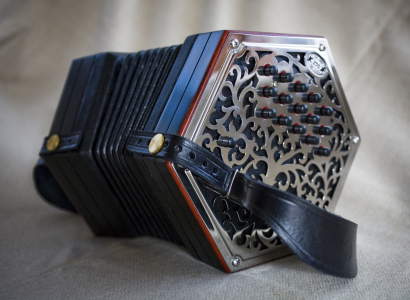 The Session Box Models

are made to have a strong tone, especially good for being heard in larger music sessions. To keep costs down, these instruments are usually made of domestic woods like oak, maple or walnut, but an exotic wood can be an option. Session Box instruments use the same quality of reeds, mechanisms etc. as all our other models.

The Performers' Models

have a somewhat softer tone. This is the type of instrument played by Asher Perkins on our Home Page. He has won several concertina championships with this instrument. It is available with a satin finish in various woods.

The Professional Models

have the ultimate in concertina tone, using out exclusive "angled reedpans." A wide range of woods can be used for these instruments from ebony to rosewood or other woods chosen by the customer. These concertinas usually have a hand-rubbed finish.
If you have questions or wish to receive a price list/order form please contact Frank Edgley at fedgley@cogeco.ca or call 519-991-3100.